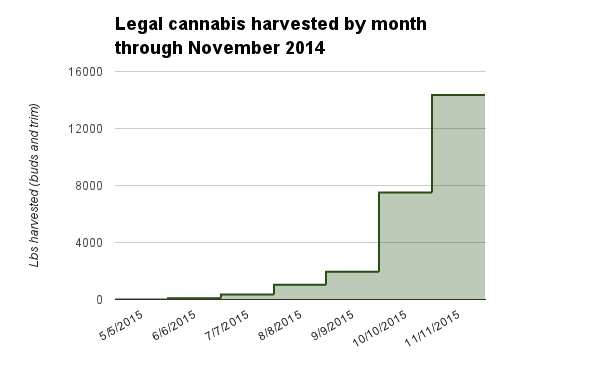 by Dominic Corva, Executive Director
Happy New Year! December was a busy month but we at CASP are excited to get back to mapping and analyzing the legal cannabis landscape. The WSLCB recently sent us a full account of how many grams of legal cannabis were produced from the first harvest in May up to November 11, which includes most of the fall outdoor harvest. Updated numbers will be available soon, and we will close the books on 2015 when it does. This post is a preliminary look at the data, which is not publicly available at this time.
As the reader might intuit from the graph, the story is one of logarithmic production growth, although that will level out over the winter since most Tier 3 outdoor production will be dormant for the next 8 months or so. Until then, more producers will be coming online and the indoor and hybrid gardens will try to take up the slack.
The number to know: 25,300 lbs were harvested over seven months from 178 distinct licensees, with about half of that coming in November. That's the number 1 reason why producer/processors are having a much harder time placing their product, and many are choosing to hold inventory until their wholesale products improve. Smart ones are storing their inventory properly and allowing their product to cure over the next several months, which should help with microbial testing issues that faced so many at the end of the year — we have information on that and will write about it in the coming weeks.
Next up for the data will be breaking down market share by Tier, as we have done in the past, but also by licensee. We want to know how democratic the production economy is, and to do that we will need to measure market centralization. We will also be geocoding licensee harvest numbers to show how production has been distributed throughout the state.
See you soon! We have a lot of forecasting and analysis to do over the next several weeks.