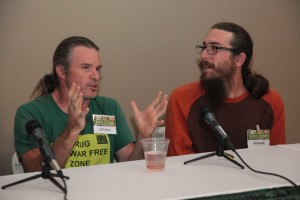 by Dominic Corva, Social Science Research Director
The second iteration of our Original Terpestival TM will take place in Hopland, California, on July 23, at the Real Goods Solar Living Center. We decided to locate in CA this year, with an option still open for holding another one in Washington, because our dear friend Martin Lee with Project CBD asked us to do a co-fundraiser in his backyard, so to speak, as he operates out of Healdsburg just south of Hopland; and because Washington formally outlawed cannabis events last year in a sneaky, last minute addition to the "Patient Protection Act." But we are really excited to partner with Project CBD and mobilize our extensive California networks in support of our popular education event.
The event combines world-class scientific knowledge about whole-plant cannabis with Dr. Michelle Sexton's uniquely designed competition. The "Terpene Tournament" uses terpene profile results from SC Labs, our major event sponsor, to place entries into individual categories based on terpene clusters like "high myrcene." And then our panel of professional judges, assembled by Cannabis Action Network leader and Harborside ex-buyer Rick Pfrommer, decides the winners for each individual category. We will also compile and analyze the results of the competition and publish them like we did last year.
The competition creates an industry "pull" effect, by giving them better and more information upon which to develop, brand, and market products. I have to say that last year's event, if it wasn't the sole catalyst, succeeded wildly in this respect. Last year, this time, there were very few products out there with terpene profiles and associated marketing and branding. This year, at the time of this writing, terpenes have clearly joined THC and CBD at the top of ways to differentiate industry products.
The scientists and information providers who are part of our popular education panels constitute and industry "push" effect by providing real information upon which to base marketing — it's a "push" because let's face it, receiving useful information is not usually why industry sponsors or enters the competition. Once they have been "pulled" by the familiar marketing benefits of the competition, they are there to hear Dr. Ethan Russo, perhaps the pre-eminent terpene researcher on the planet, deliver a keynote after our amazing panelists address topics such as "Terpenes and Wellness."
It's a win-win for industry, because public interest and private interest are aligned perfectly: the public needs to know what they are consuming and what consumption means for health, and industry badly needs ways to diversify its products to compete in an increasingly saturated marketplace. THC and low prices should not be the only business model out there — that's the prohibition business model, and to get beyond prohibition culture we need to get beyond THC and into the whole plant.
We are incredibly grateful to our network allies without whom this event could not happen. Wonderland Nursery in Redway, Southern Humboldt, is one of our closest allies. Kevin Jodrey came to our event last year on his own dime to support us, and this year is playing a key role providing advice, collecting entries and mobilizing networks. Healing Harvest Farms at Area 101 in northern Mendocino is also providing human resources and entry collection. True Humboldt in Eureka, Magnolia Wellness in Oakland and Emerald Pharms in Hopland itself are also serving as entry points, providing advice, and mobilizing their networks. And of course SC Labs in Santa Cruz is not only donating the testing but serving as an entry collection point.
At this time we are struggling a bit with sponsors and hustling last minute entries. In Washington State, Thincpure has delivered already on their Sesquiterpene sponsorship. We received a terrible blow with the Federal raids on the CBD Guild last week. Although charges were dropped and Dennis Hunter was released, the raid came on payday and over $600,000 was seized, so we have lost some major sponsors and are working very hard to overcome that.
So this post is both an announcement and invitation to the event, and a call for interest in sponsorship, entries, and vending. Please contact me at my gmail address, corvad@gmail.com , or any of your local entry collection points described above. Our event last year proved tremendously influential and rewarding for industry, and we plead this year not only for solidarity but for industry to recognize that participation is good for their bottom line, good for the public, and co-fundraiser for two very strapped nonprofits.
All relevant information can be found in the following documents. Entrees require 1 oz flower and 4 g concentrate, solventless or Co2 only.
TerpestivalDrop-offInstructions2016
Terpestival2016SponsorshipSheet